Howdy Folks,
The COVID-speckled days of the last 2+ years have led to many cancellations. Seriously, consider how many emails/social posts/announcements you've read that start with the words "Due to…" or "Out of an abundance of caution…".
Here in Pancakia, we've certainly kicked a lot of event cans down the road while trying our best to keep the fun alive by gathering our teams and communities together as safely as we can. Our celebration of Free Crepe Day has been one such continued postponement since 2020…until now!
For those of you who don't know, the story of Free Crepe Day stems from the French holiday Le Chandeleur, or International Crepe Day. This magical day is usually celebrated the first Tuesday in February – a welcome respite from Vermont winters – and we were all geared up to make that happen again this year. But there was Omicron finding its way through our ranks, so "Out of abundance of caution…", the can was kicked once more…
But as Spring began to sprung, we thought, what better way to acknowledge the budding spirit of April than by pairing it with a magical food product like the crepe. So, here we have a new tradition born for Free Crepe Day 2022 as we give the crepe the day it deserves on 4/20. No munchies necessary. Deetz below!
Here's Whats Happening Around Pancakia:
Lake Street Renovations
Four years after the first crepe was served, we opened the doors to the first Skinny Pancake down on Burlington's waterfront at Lake & College in June 2007 with dozens of new crepe dishes for all to enjoy. Millions of crepes served and 15 years later we have given our devoted Waterfront location another facelift.
This renovation was all about "the flow". In addition to the crepes, part of what we're selling is comfort. A good "flow" means all our guests who enter through our space should have a frictionless, comfortable experience even when we're busy full of crepe eaters.
With this renovation, we're also re-opening into the evening hours! Now open until 8pm on Friday and Saturday nights with crepes, coffee, burgers, beer, wine, and cocktails. Come on by, get comfortable, and check out the moves we've made.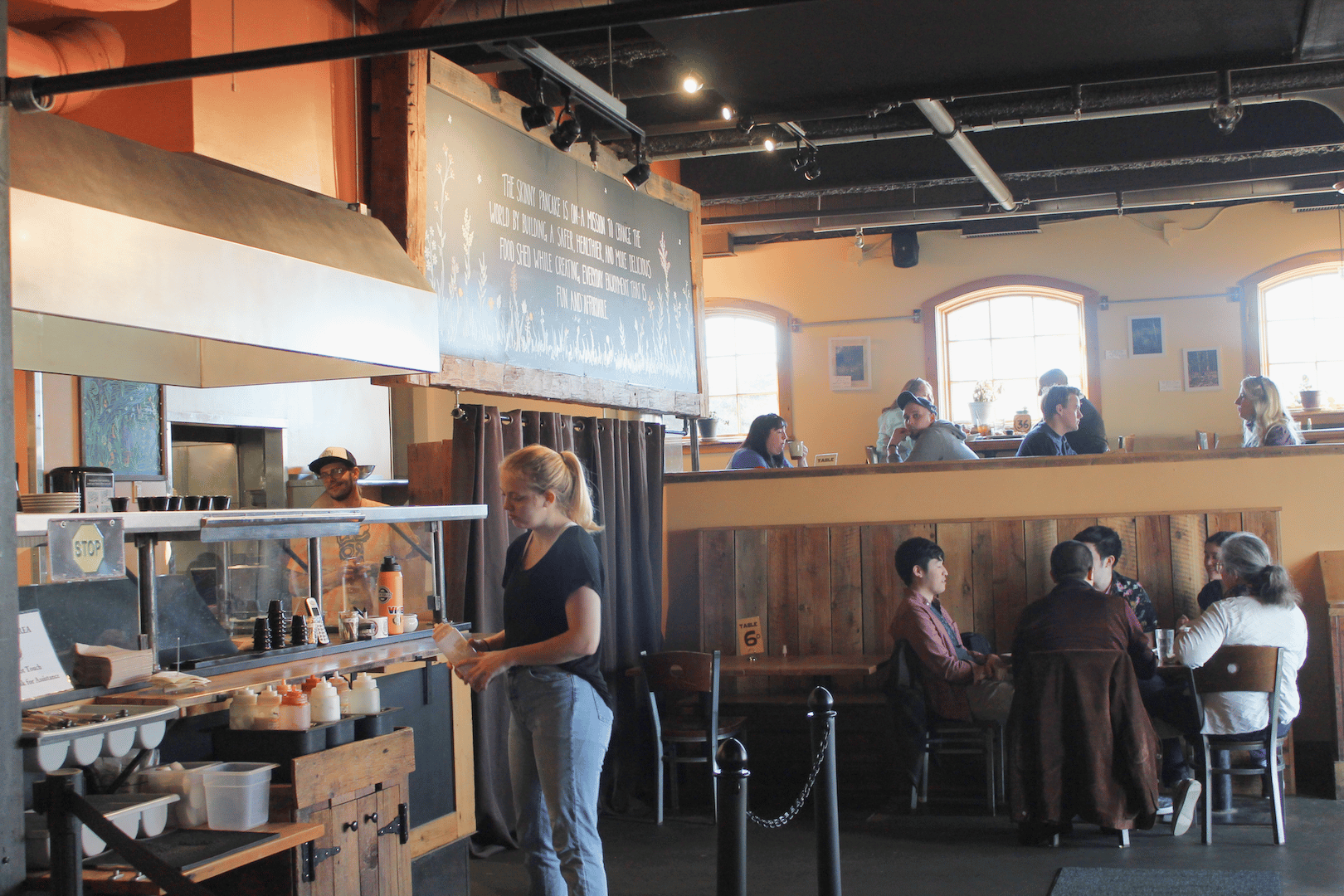 Springtime Specials!
Spring brings growing flowers, bright colors, and just a general feeling of 'freshness'. Montpelier's specials this week are really taking to heart that springtime spirit. They're serving up this Strawberry Milkshake made of local, VT ice cream and milk blended with strawberries as well as a Blueberry Lime Crepe featuring blueberry infused crepe batter and a housemade lime mascarpone.
You'll also find blueberries and mascarpone specials elsewhere around Pancakia – so swing on by and check 'em out.
New Menu Items
With the changing of the seasons comes the changing of our menu! We will be rolling out new menus at all locations in the next couple of weeks. In addition to our greatest hits, we're also rolling out some newbies, and making a few tweaks to some familiar ones.
On the burger front, all new-ness there: The SP SmashBurger has two fresh beef patties, cheddar cheese, maple onion jam and our SP special sauce on a local bun. In new crepe news, meet the Chicken Bacon Rancher, a modern take on a classic with roasted chicken, bacon, caramelized onions, housemade ranch and cheddar cheese on a savory crepe! These items are live at the Burlington Waterfront and BTV airport and coming soon to a Pancake near you.
We're Hiring – Join Our Team!
From Burlington to Quechee, Festival Tour to the Church Street Cart and all points in between, The Skinny Pancake is hiring across the ranks as we staff up for the summer season. If you're looking for a new career, a passing summer job, or even if you're not really sure – we've got a place for you.
Our team is a great mix of seasoned professionals and those new to the scene of cooking/serving – all focused on putting tasty food in people's bellies. We offer competitive pay, great benefits, and a reliable quality of life.
New for this season, we are NOW OFFERING A 2% REVENUE SHARE FOR ALL BACK OF HOUSE EMPLOYEES! That means line cooks, prep cooks and dishwashers will all get paid more when we're busier. Please join us.To apply, email us at [email protected] or⁠ browse all job openings on our website at www.skinnypancake.com/jobs